Conifer Treasury of the World 3.0, 2010
The greatest conifer checklist database ever published in the conifering history
I have written my 3rd version 'The Conifer Treasury of the World' (3.0) to provide the reader with as many well-known and in some cases, some conifer-enthusiasts that are not so well-known... as of yet. For the reader you will find the legacy, and history, of many new people now just being recognized for their achievements. Another feature of 'The Conifer Treasury of The World' (3.0) is access to newly-written records that I will add as I discover them and upload their information... to my website. After that with local partners I would like to publish more national Conifer Treasuries, because these are the future grounds of conifering. Simply to find the creating people, the conifer breeders.
Credits
The creation of the 3.0 Conifer Treasury is a joint-effort of many folks who have helped me along this journey into the literal, unknown. I would like to thank for linkable photo collections:
The American Conifer Society
Larry Stanly, Oregon USA
Bob Fincham, Washington USA
Dax Herbst, Illinois USA
Nate Cassell, Colorado USA
Elemér Barabits, Hungary
József Hódi Tóth (HTJ), Hungary
Jiri Holata, Czech Republik
Ján Sláma, Czech Republik
Edwin Smits, The Netherlands
Jörg Kohout, Germany
Sabine zu Jeddeloh, Germany
Dariusz Burdan, Poland
Daglezja Nursery, Poland
Sylwester Tomszak, Poland
Clément Anthoine, Belgium
Henk van Kempen, The Netherlands
And many conifer collectors, who are gathered around the Gardenweb Conifer threads with their great knowlegdes, photo documentations.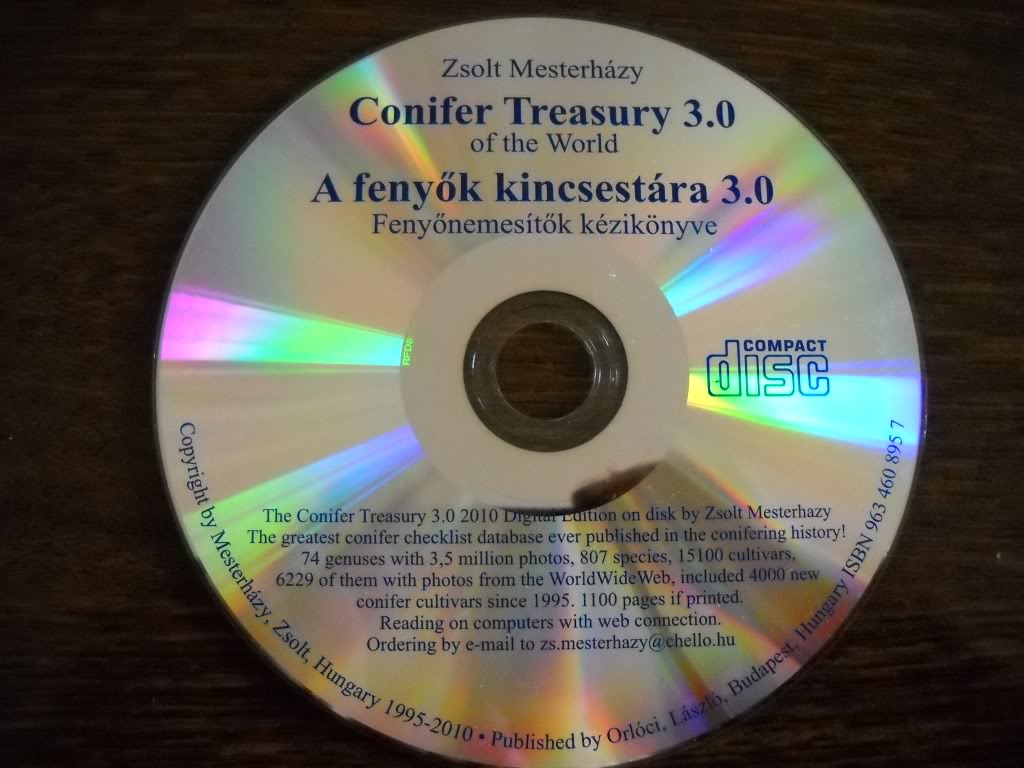 Statistics of the Conifer Treasury 3.0
74 genera with 3,5 million photos, 807 species, 15100 cultivars, 6238 of them with photos from the World Wide Web, included 4000 new conifer cultivars since 1995. 1100 pages if printed.